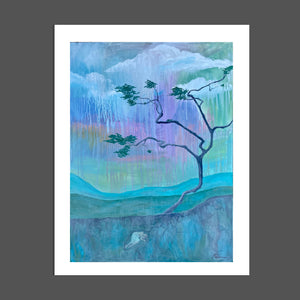 TREE OF LIFE
After swearing off deep, weird and serious paintings.... I created another one! "TREE OF LIFE"
I am a firm believer in the afterlife and loved ones who've passed surrounding us at all times.  My vision for this painting was seeing the "life after death" of someone in the sky, the mountains, the trees... If you zoom in to the woman who is cocooned in the ground.. connected to a root that makes the tree... you'll see her peacefulness.  (an afterthought as I was painting her, all snug in her little cocoon... I thought this painting could also represent the need to get away and be alone after all the beauty or chaos we've created... a resting space to gather the energy to go back and do it all over again)
Original 36 by 48 AVAILABLE
ALL GICLEE AND PAPER PRINTS are printed with archival ink, paper and canvas.