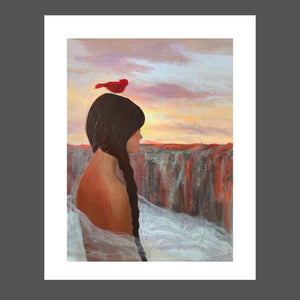 SPIRIT & SOUL
As the sun breaks the horizon I turn to the West.  In awe, as if it were the first time, my eyes are filled with a spectacular show as a colorful painting appears.  Revealing the miracle of this place, the fog rises up from the valley.  I know that I am not alone in this mysterious place.  I am surrounded by the angels... my ancestors... God.  I feel their warmth wrapping around me like the comfort of a mother's embrace.  I am grateful.  I am curious.  I am at peace.
Original 12 by 16, acrylic on board. AVAILABLE
ALL GICLEE AND PAPER PRINTS are printed with archival ink, paper and canvas.