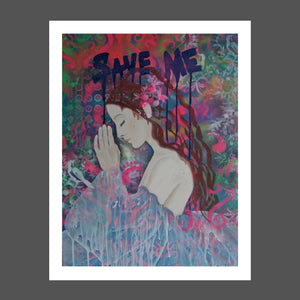 SAVE ME from MYSELF
My mind is in constant thought and travel. I have so many beautiful ideas, images and paintings going on... ALL AT ONCE. I'm not complaining... but Gaaawwww... SAVE ME FROM MYSELF!

The original is 18 by 24 inches acrylics and oils over linen stretched canvas, with antique, ornate gold frame.  AVAILABLE.
ALL GICLEE AND PAPER PRINTS are printed with archival ink, paper and canvas.