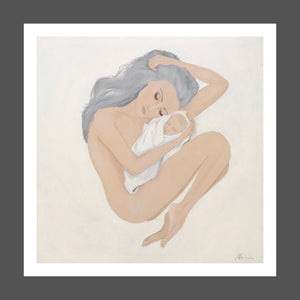 MOTHER and CHILD
There's no greater earthly love than that of a mother for her child.  As a Mother, a MiMi, an Aunt, Great Aunt...  I just wanted to try and capture that feeling of a new baby... the smell... the innocence... the blessing... They grow so fast... but this feeling is one that can not be forgotten or taken away. 
Original 24 by 24, acrylic over linen stretched canvas, heavy gallery wrap. AVAILABLE
ALL GICLEE AND PAPER PRINTS are printed with archival ink, paper and canvas.