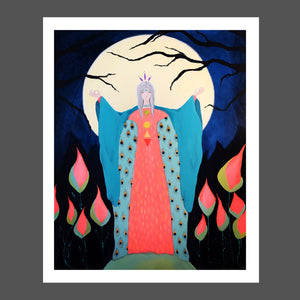 FLOWER MOON
Sometimes you have to just go for it and forget about pleasing the masses.  I was so excited about this year's FLOWER MOON and it's meaning... I decided to have a little party and dance under it.  And then I felt the need to paint this little goddess for the occasion.  She's a sassy little zen yogi who dances to the beat of her own drum.  She is love.  She is light.  She is unstoppable! 

The original is 18 by 24 acrylics and oils over linen stretched canvas.  AVAILABLE.
ALL GICLEE AND PAPER PRINTS are printed with archival ink, paper and canvas.